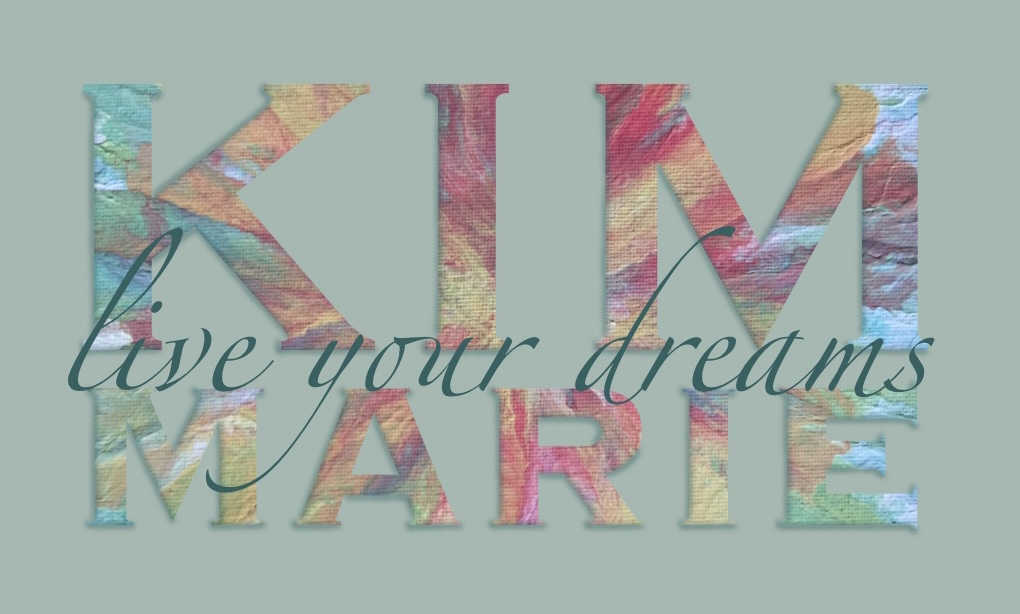 Monday, April 15, 2019 – Rocky Mountain National Park
We were out the door at 8:00 a.m. We ate breakfast at Tangerine in Lafayette.  Lexie had fruit, yogurt, and granola.  I had a Monte Cristo sandwich.
After breakfast, we drove through Estes Park to Rocky Mountain National Park. 
The Rocky Mountain National Park covers 265,761 acres. Its been inhabited for over 11,000 years, beginning with the Ute and Arapaho tribes, who were followed by Spanish explorers, French fur trappers, and gold miners. In 1803, the United States gained control of the land from the French through the Louisiana Purchase. It became a national park in 1915.  Today, there are over 300 miles of trails in the park. 
Trail Ridge Road was closed when we were there.  It doesn't open until Memorial Day. We stopped at the Fall River Visitor Center, but it wasn't open.  A mile or two into the part, we saw several deer.  We eventually got our of the car and walked around looking for "sheds".  No luck.  Back in the car, we saw more deer closer to the road.  I made Lexie pull over so I could take some photos.  We made our way to the Beaver Meadows Visitor Center, which is open year-round.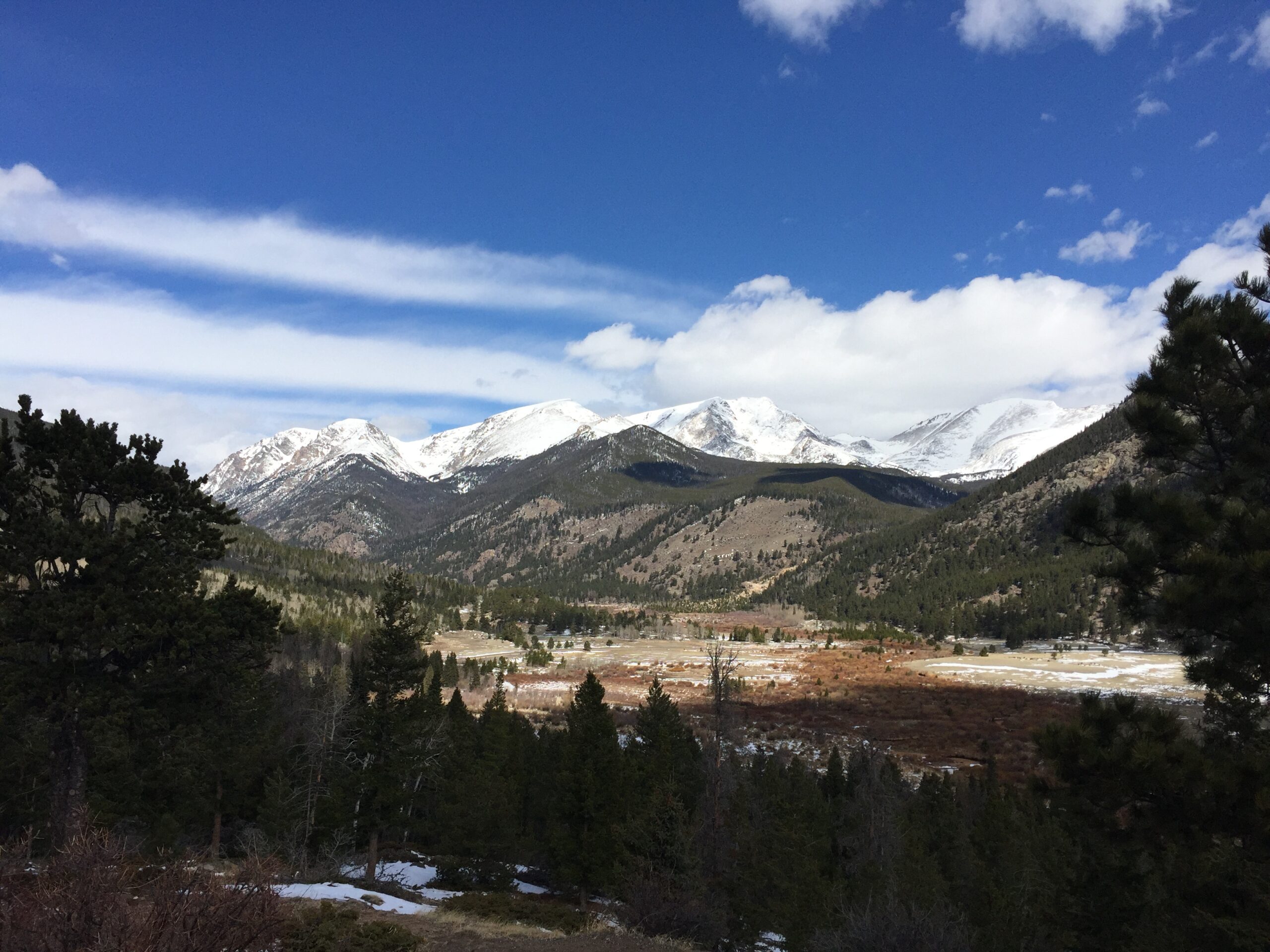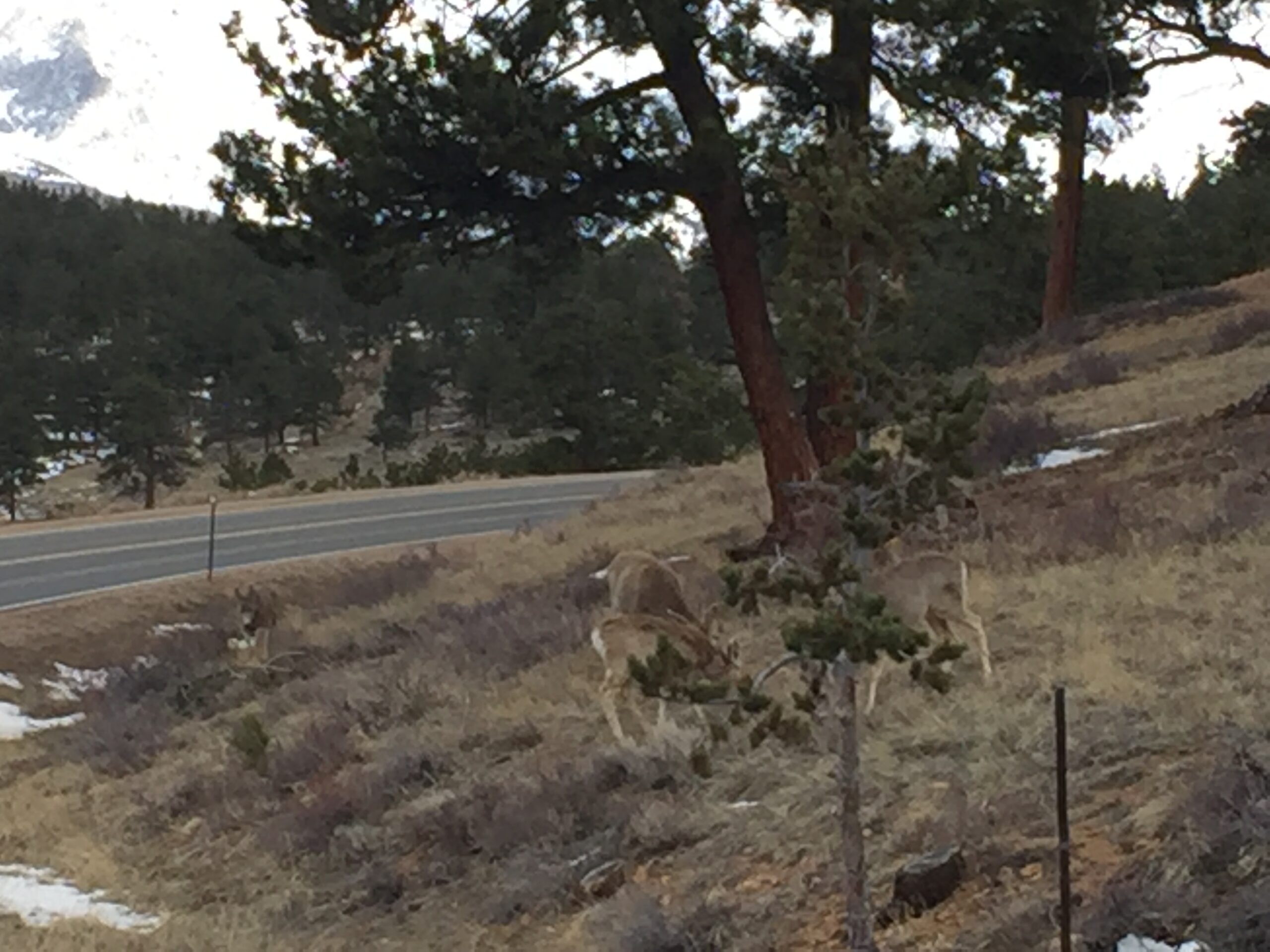 The ranger suggested we walk from Alluvial Fan to Chasm Falls.  He warned us that the paths around Sprague Lake and Bear Lake would be snow covered and icy – not recommended without spikes – same with Alberta Falls.  We make it the two miles to Chasm Falls.  We saw mountain goats along the way.  The falls were frozen.  We had a small snack and headed back down – 4 miles round trip, gained 670 feet in elevation.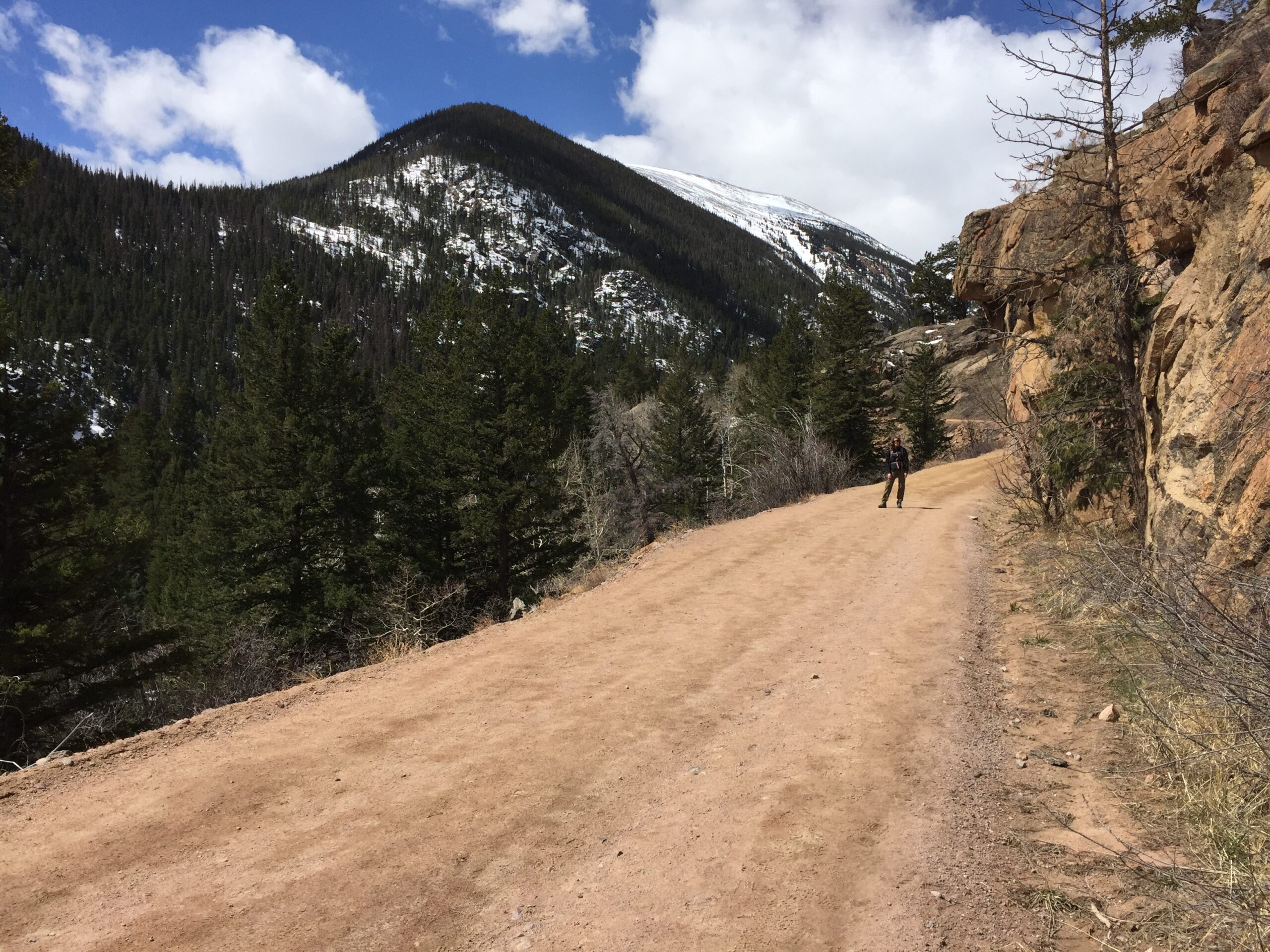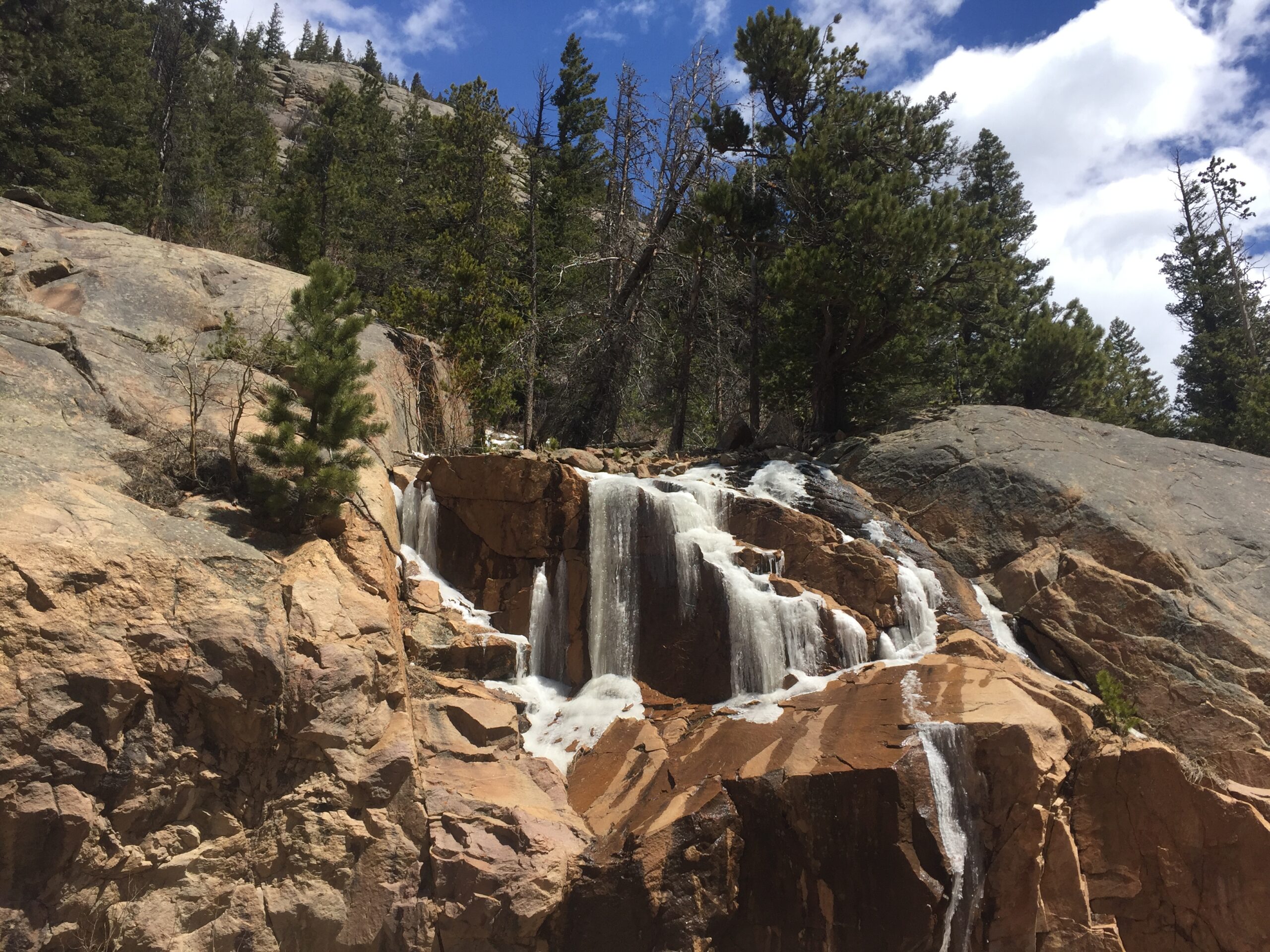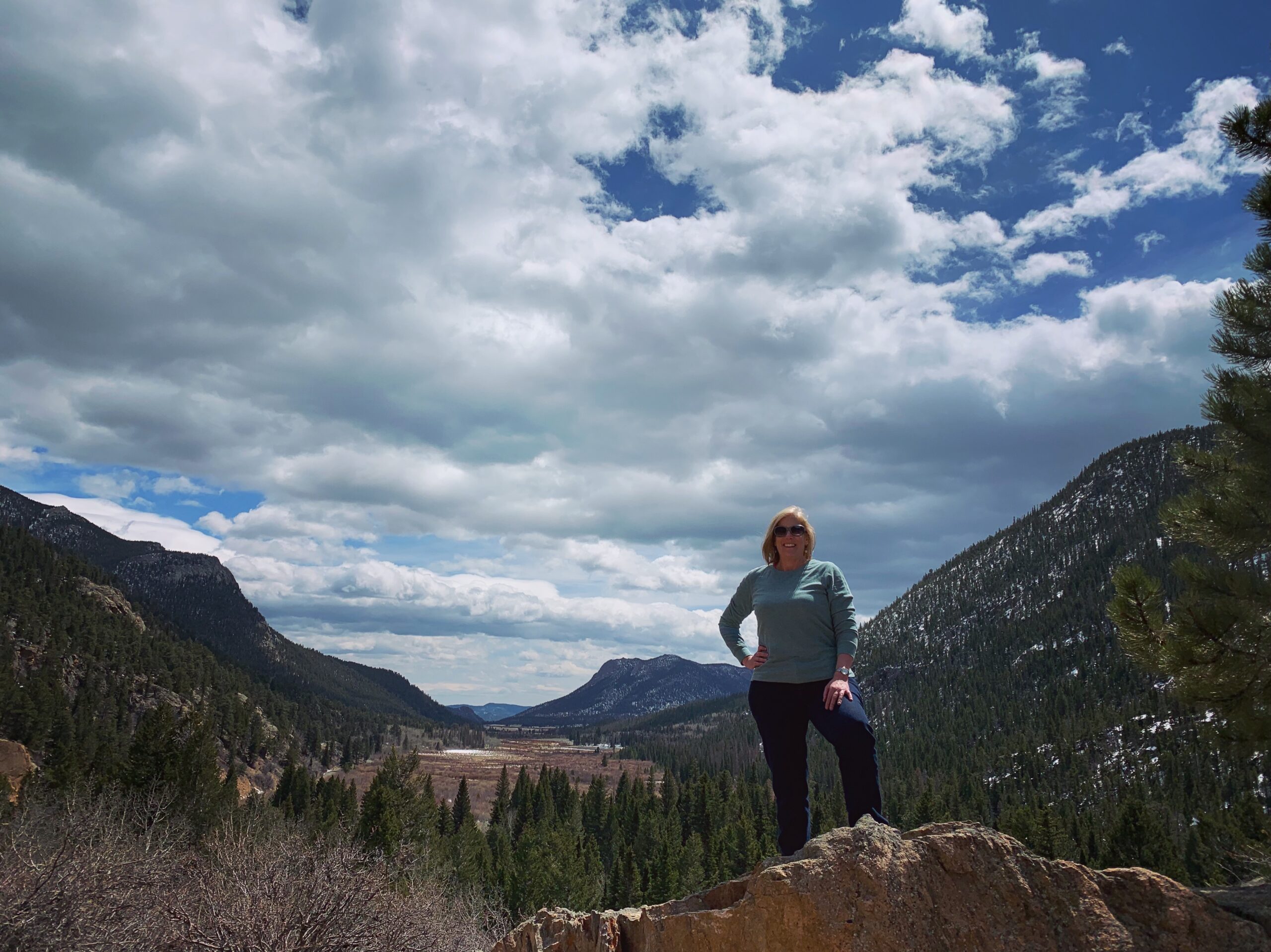 We drove to Sprague Lake.  The trail was snowy and icy.  We took a few photos and then drove to Bear Lake.  I realized when we got there that it was also a trailhead for Alberta Falls (only .9 mile and only 160 feet elevation gain).  I thought for sure, I could make it.  Lexie insisted we check out Bear Lake first . . . it was snowy, icy, and no fun . . . it is not nearly as beautiful when the lake is covered in snow as it is in the summer when mountains and lush trees are reflecting in the lake.  We took a few photos and agreed that we were not equipped for Alberta Falls.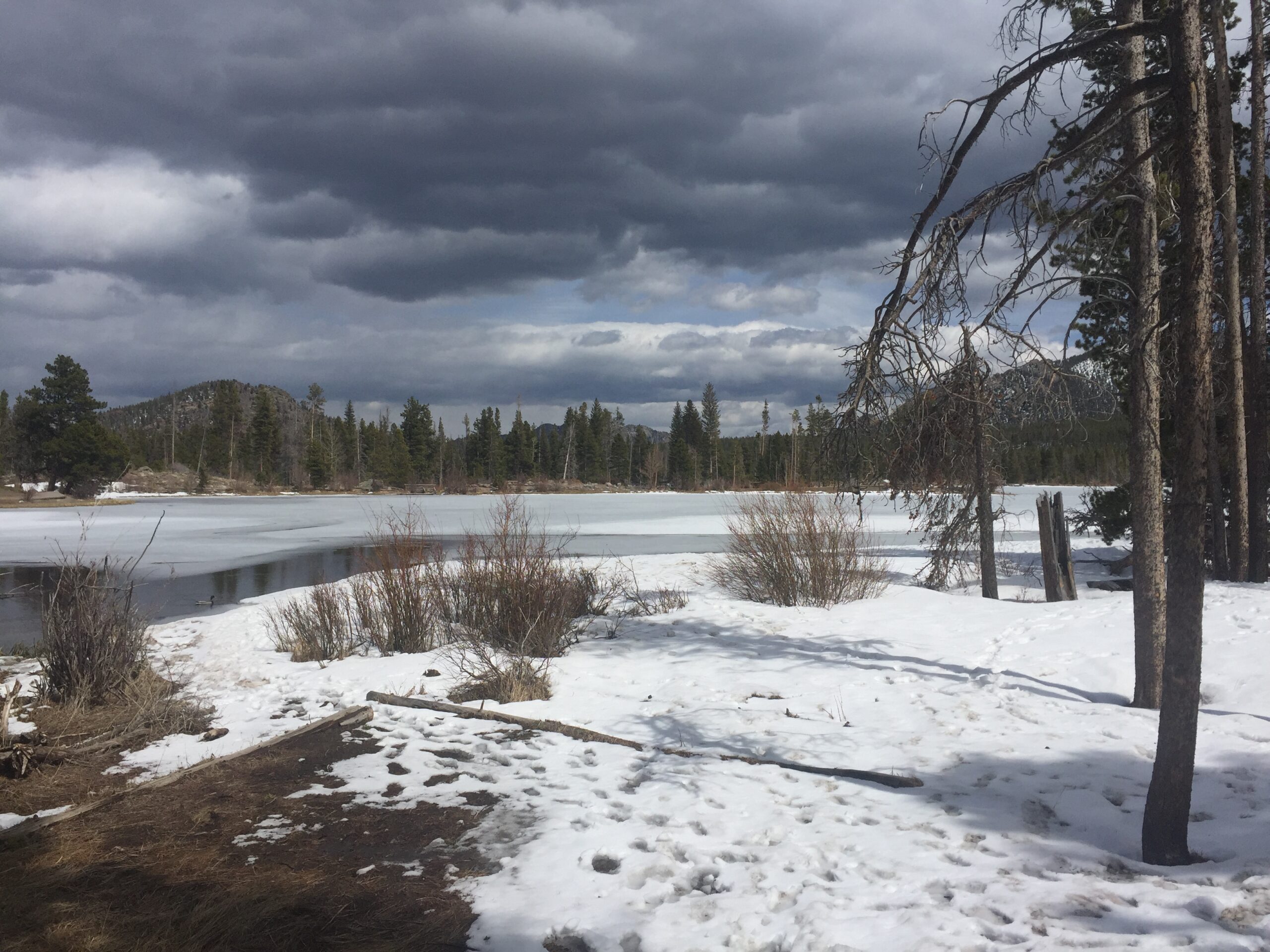 We left Rocky Mountain National Park and drove into Estes Park (population approximately 6,000) to look for wood fired pizza.  Herds of antelope were roaming around various parts of town.  We ate pizza at Antonio's – it was OK. 
Afterwards, we drove to the Stanley Hotel and took a few photos.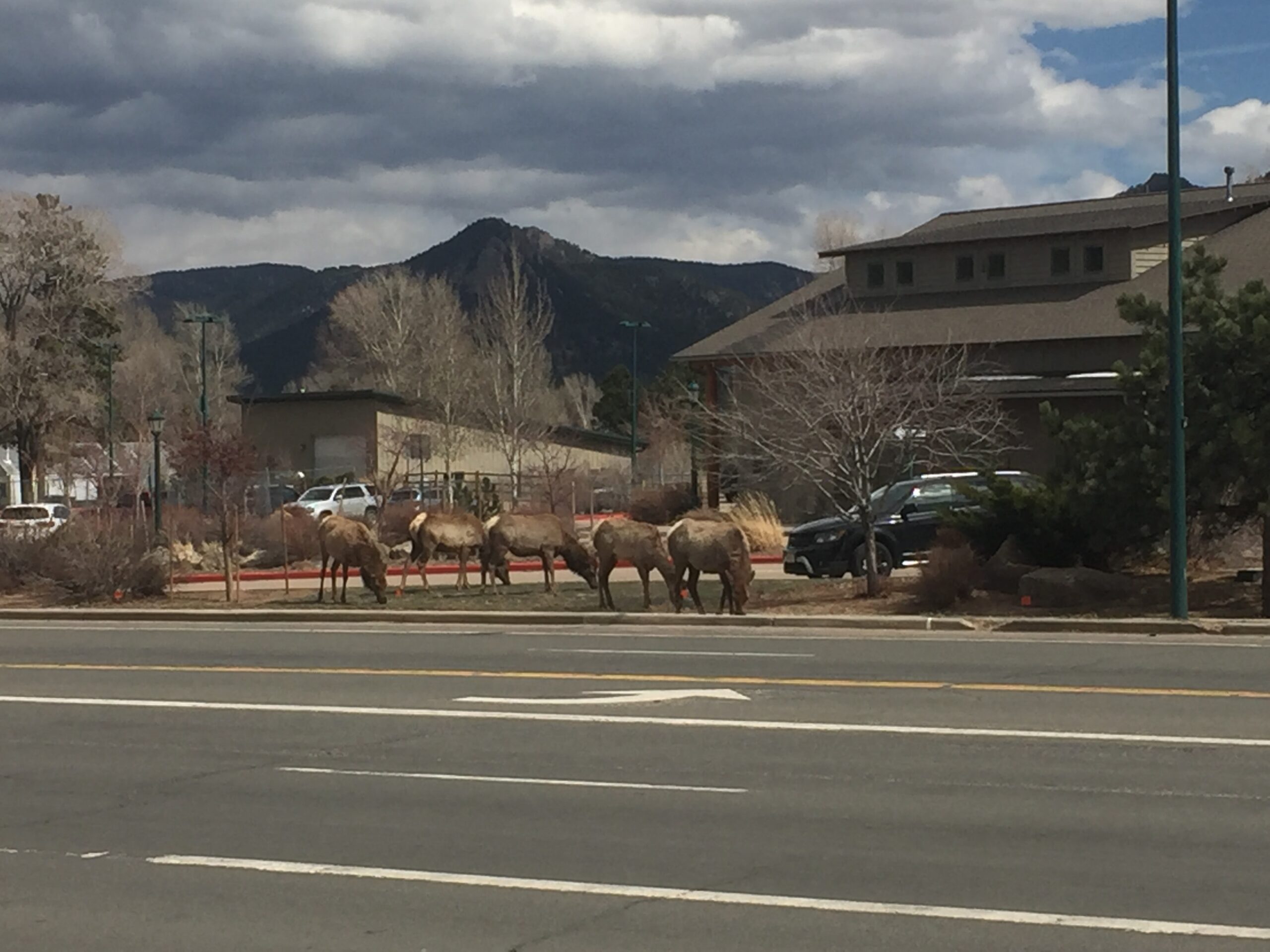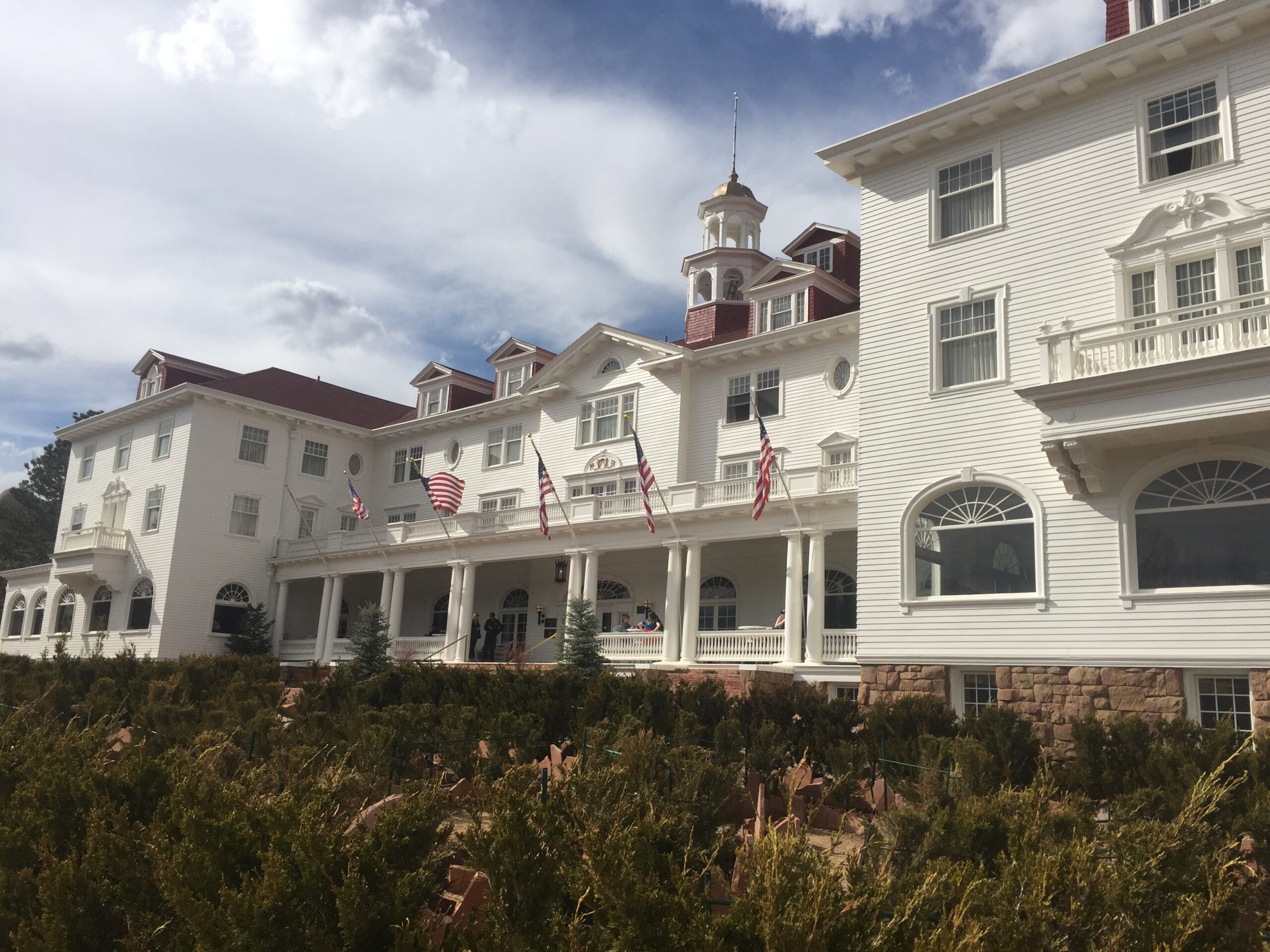 The Stanley Hotel was built by the founder of the Stanley Steamer.  It opened in 1909 and was the filming location for the Overlook Hotel scenes in the TV miniseries of Stephen King's The Shining.
Then, we went to Rock Cut Brewery.  Lexie had a Pollen Cloud IPA.  It was good – even I liked it – and I don't like IPAs.  I had a Mummy Kill (or something like that).  It was also very good.  The bartenders are very pleasant.  We asked the hip one – with the hat and plaid pants – about the long list of names on the chalkboard.  He told us that those people all have a beer available for them (if and when they ever come in) that was purchased for them by another customer. My name wasn't on the pay-it-forward list.  Neither was Lexie's L We couldn't think of anyone to buy a beer for either. When we were ready to leave, we asked one of the bartenders – not the hip one – for recommendations of things to do in Estes Park.  He suggested we go bowling – $1.50/game on Monday nights.  Really? Bowling? He said that's probably what he would do if he wasn't working.  Lame!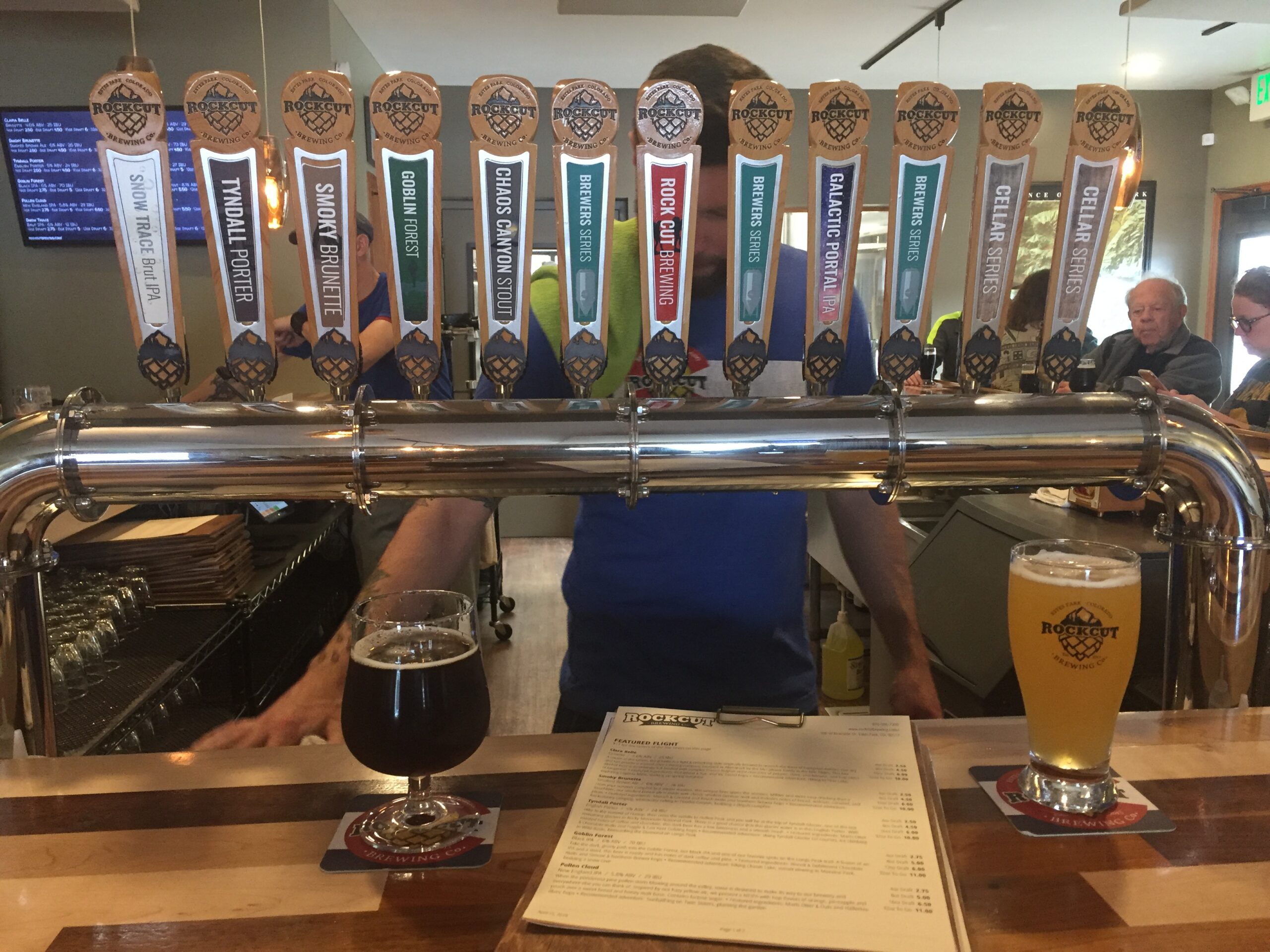 We drove back to Boulder and went to the Red Fox store where I purchased a backpack that I had admired the day before.  Then, we went to the Lazy Dog.  We got some drinks and shared mashed potato nuggets and bacon wrapped dates.  I was skeptical of the dates because first of all they're dates, but also because they were drizzled in balsamic.  It turns out that they were quite delicious.  I really wanted to eat them all, but I did share them.  There were some very annoying, know-it-all millenials bashing their absent friends, especially the ones who don't vaccinate their children.
We left the Lazy Dog and went to the Boulderado.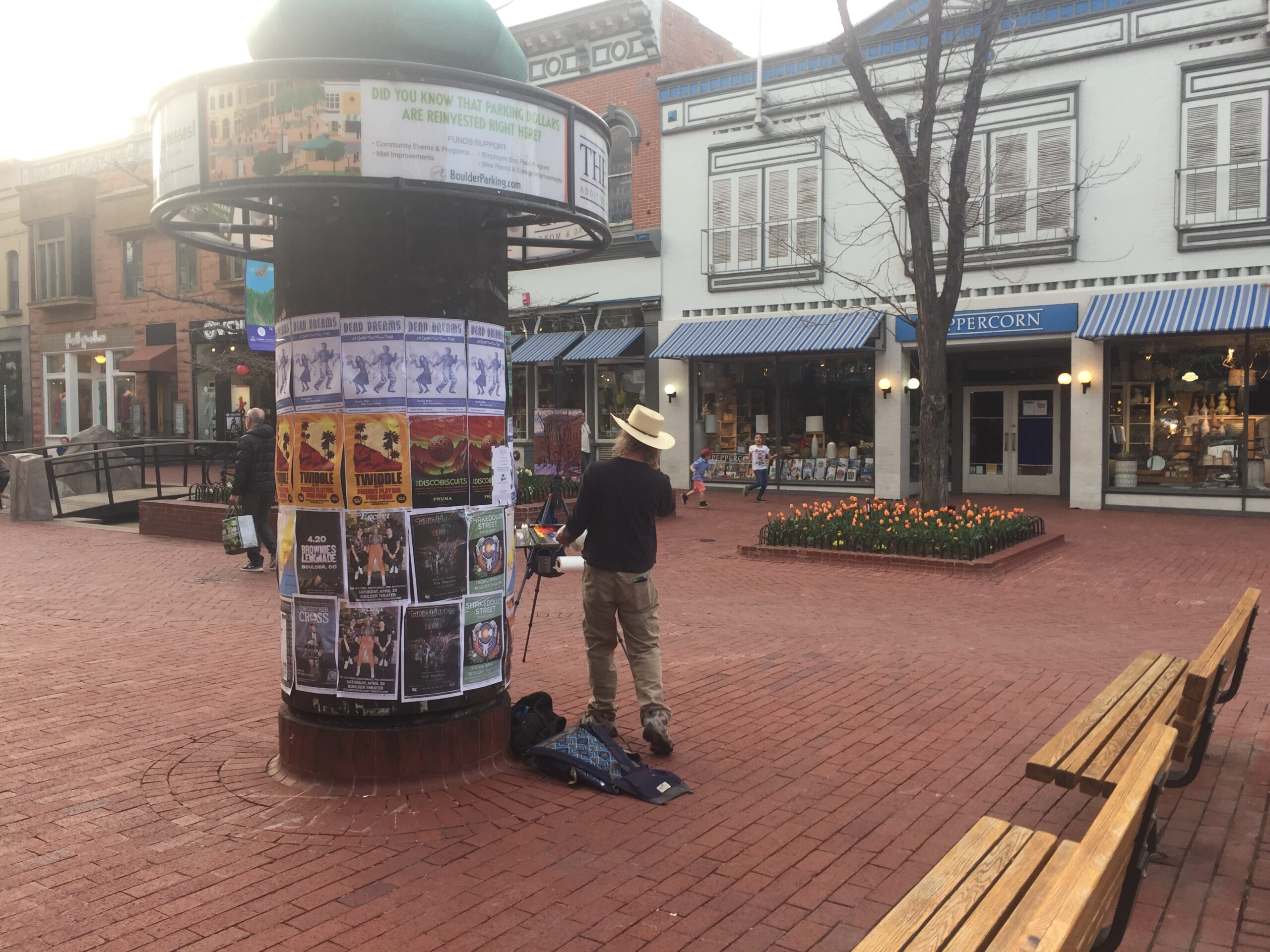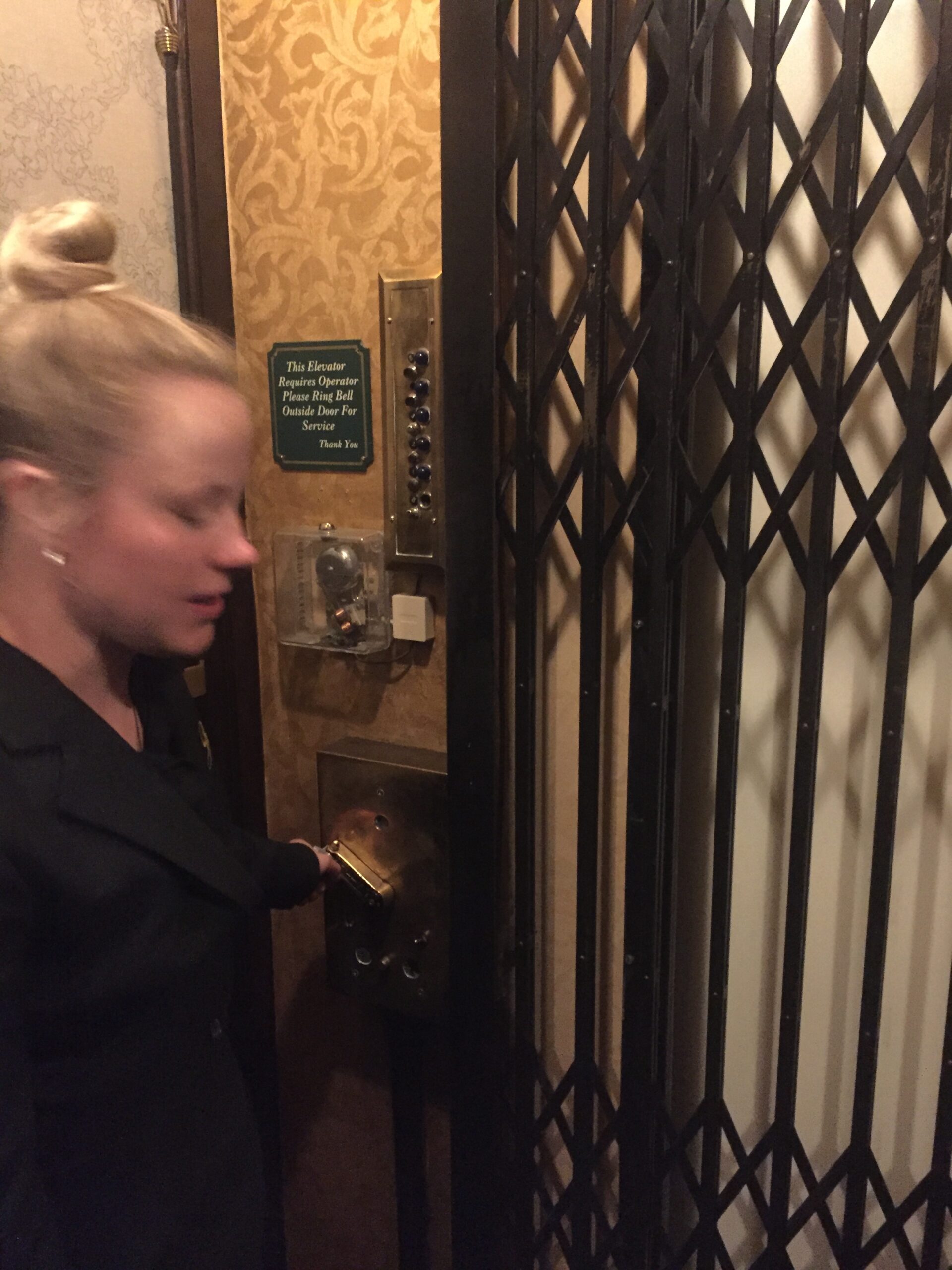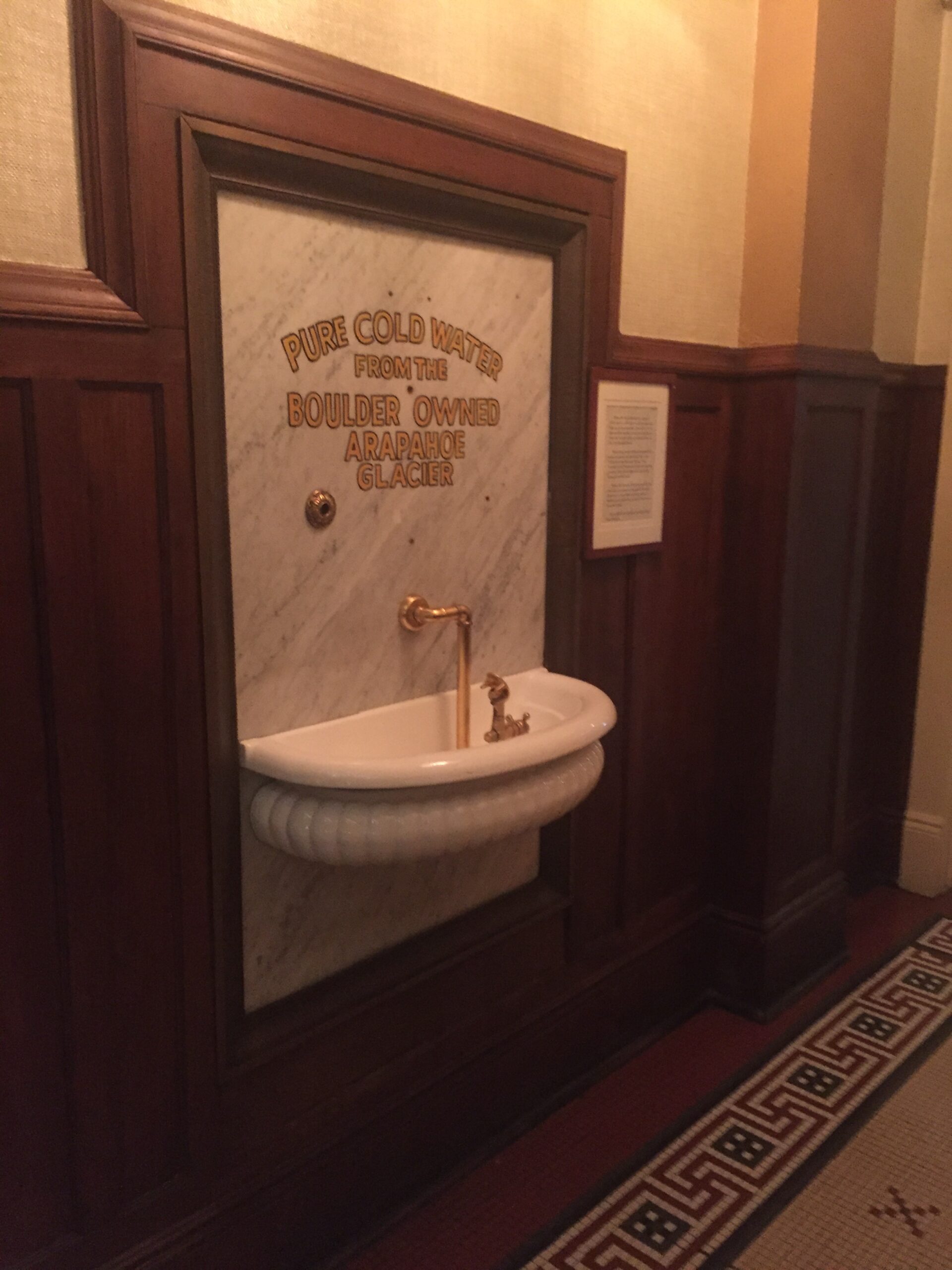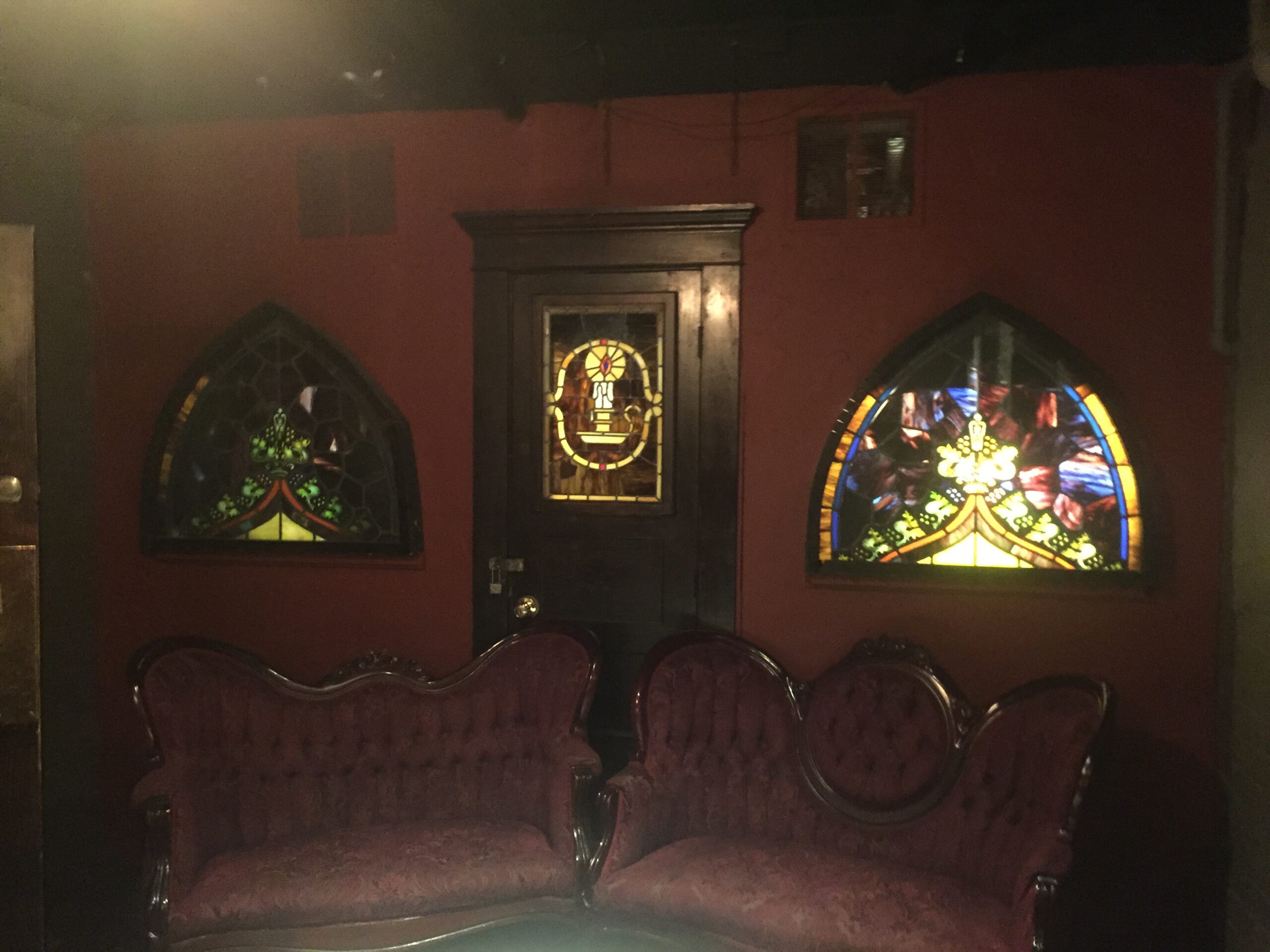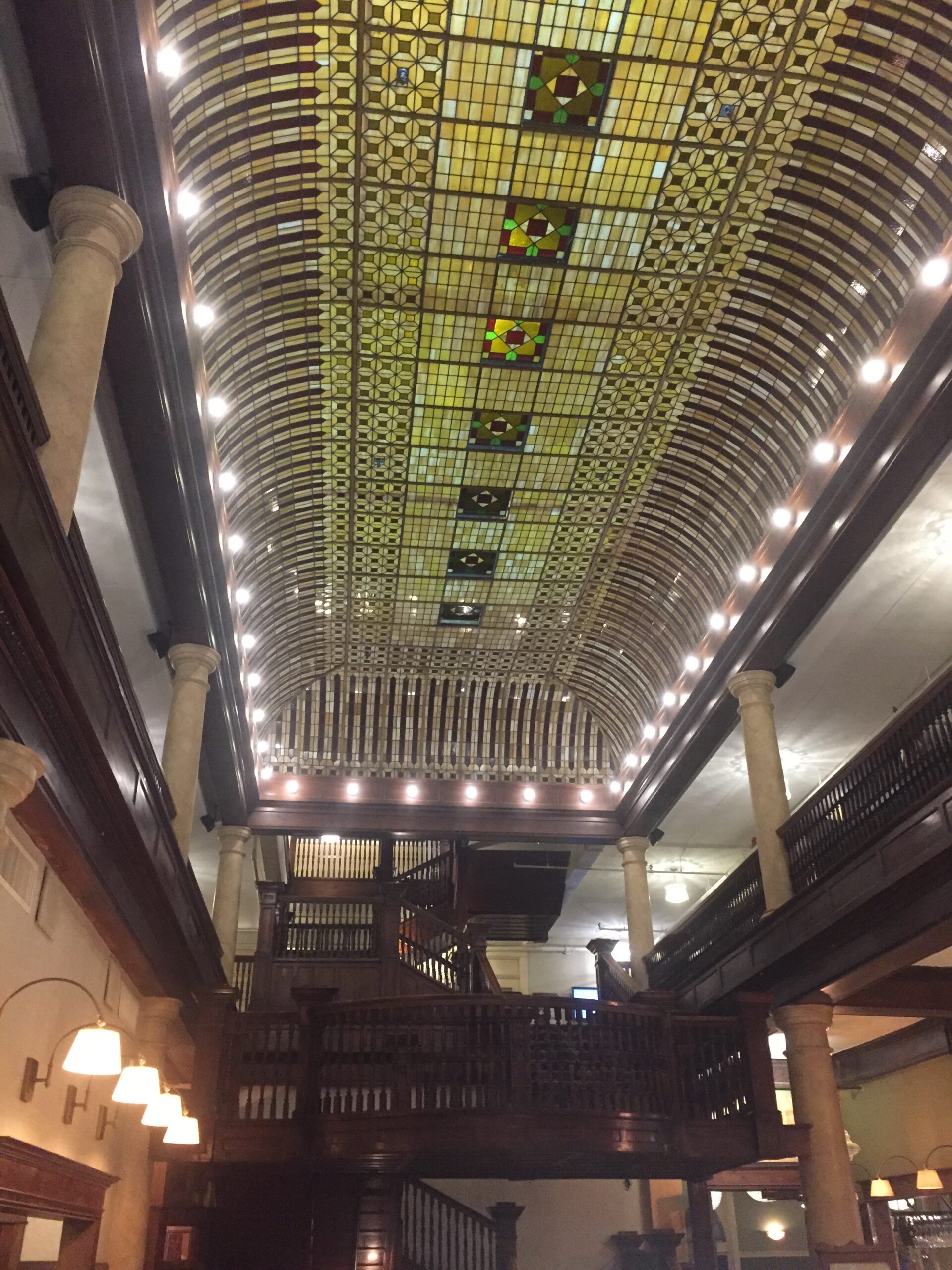 The Boulderado opened with a Gala Ball on New Year's Eve in 1908. The five-story brick building incorporates both Italian Renaissance and Spanish Revival architectural styles. Famous guests include Helen Keller, Benny Goodman, and Louis Armstrong. 
In the Boulderado, we drank from the Glacier Water Fountain, and we took the antique caged Otis elevator to the speakeasy in the basement. We noticed the framed "License 1" hanging on the wall.  It was the first liquor license granted in Boulder after Prohibition ended.  Lexie ordered a Bourbon Old Fashioned.  It was very strong.  I had a Captain & Diet.  Open mic was going on; it was very entertaining – especially Hannah.