In 2018, I was one of 64 artists whose designs were selected for Bucky on Parade. The Madison Area Sports Commission partnered with the UW-Madison to produce this free, public art event.  I was able to bring three of the 85 Bucky Badger statues to life for the event which raised $1 Million for Garding Against Cancer, Madison Area Sports Commission and other local charities.
We Are Bucky  is covered in images of UW Madison memorabilia, coaches, athletes, students, and fans.  For the Summer of 2018, We Are Bucky was sponsored by Wipfli LLP and was located in front of Smith Hall on Park Street.  In the Fall of 2018, We Are Bucky went up for auction. It was purchased by CUNA Mutual Group and is located at their home office in Madison, WI.
Funky Buckingham  was base painted using several different tools, such as bubble wrap, a potato masher, corrugated cardboard – but no paint brush.   The motion W on his chest is decorated with sports icons and the Jump Around paw on his back includes shopping motifs.  The red base is covered in ticket stubs from a variety of UW-Madison events that I attended.  Funky Buckingham was sponsored and purchased by Greenway Station in Middleton, WI where it stands today.
5th Quarter Bucky  was decoupaged with sheet music.  The words and music to "Varsity" were painted across the front and band instruments were affixed to the statue.  5th Quarter Bucky was located at the AC Hotel in Madison during the Summer of 2018.  It was sponsored by Lands End and currently lives at the Lands End Headquarters in Dodgeville, WI.
In 2019, my Bloom design was one of 24 selected for Downtown Doors Madison, another free, public event.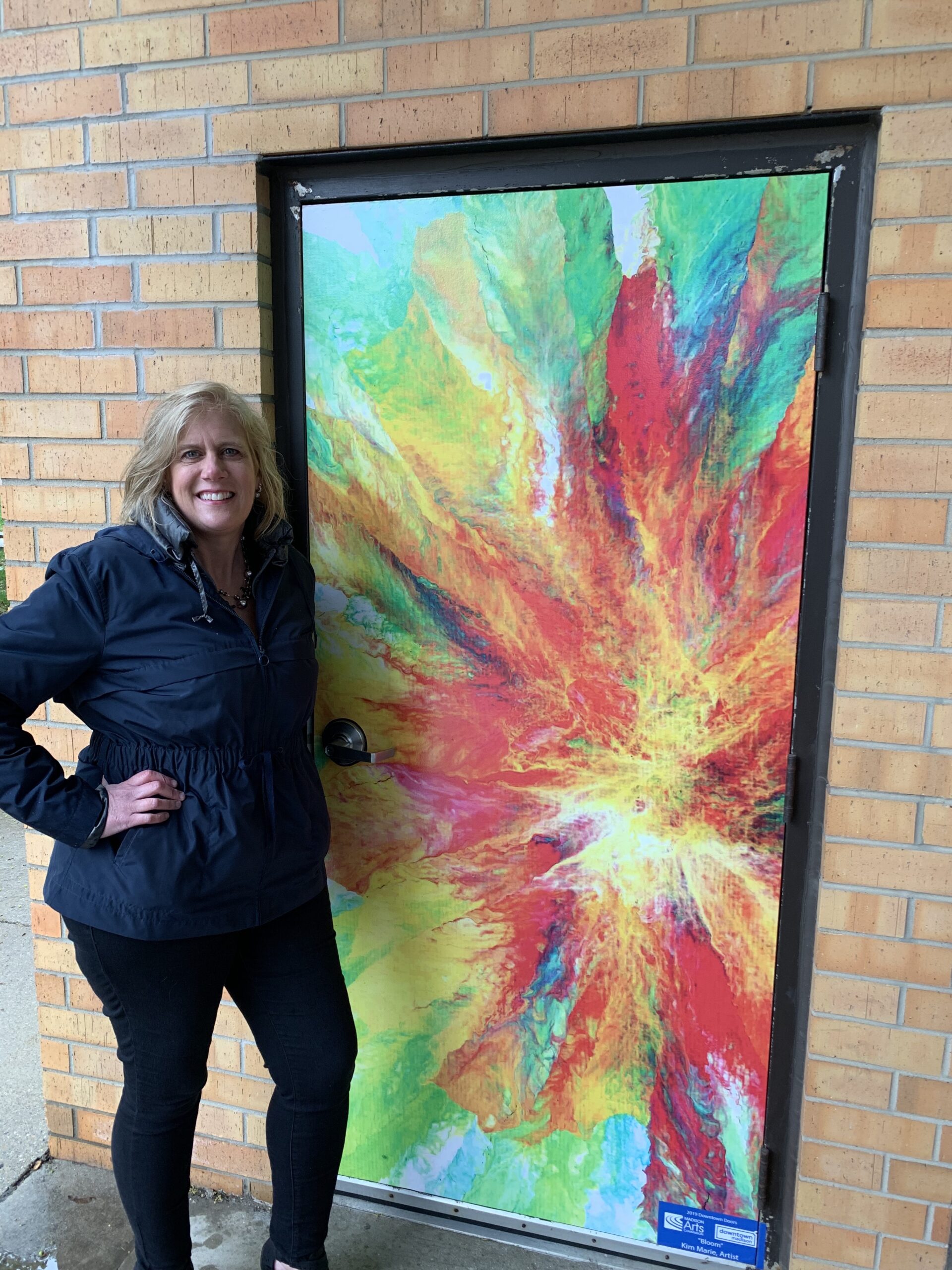 Bloom was originally created using acrylic paint on canvas.  The design was enlarged and transferred to a vinyl wrap which was applied to a door at the Capitol Center located on the corner of Broom and Dayton Streets in Madison, WI.