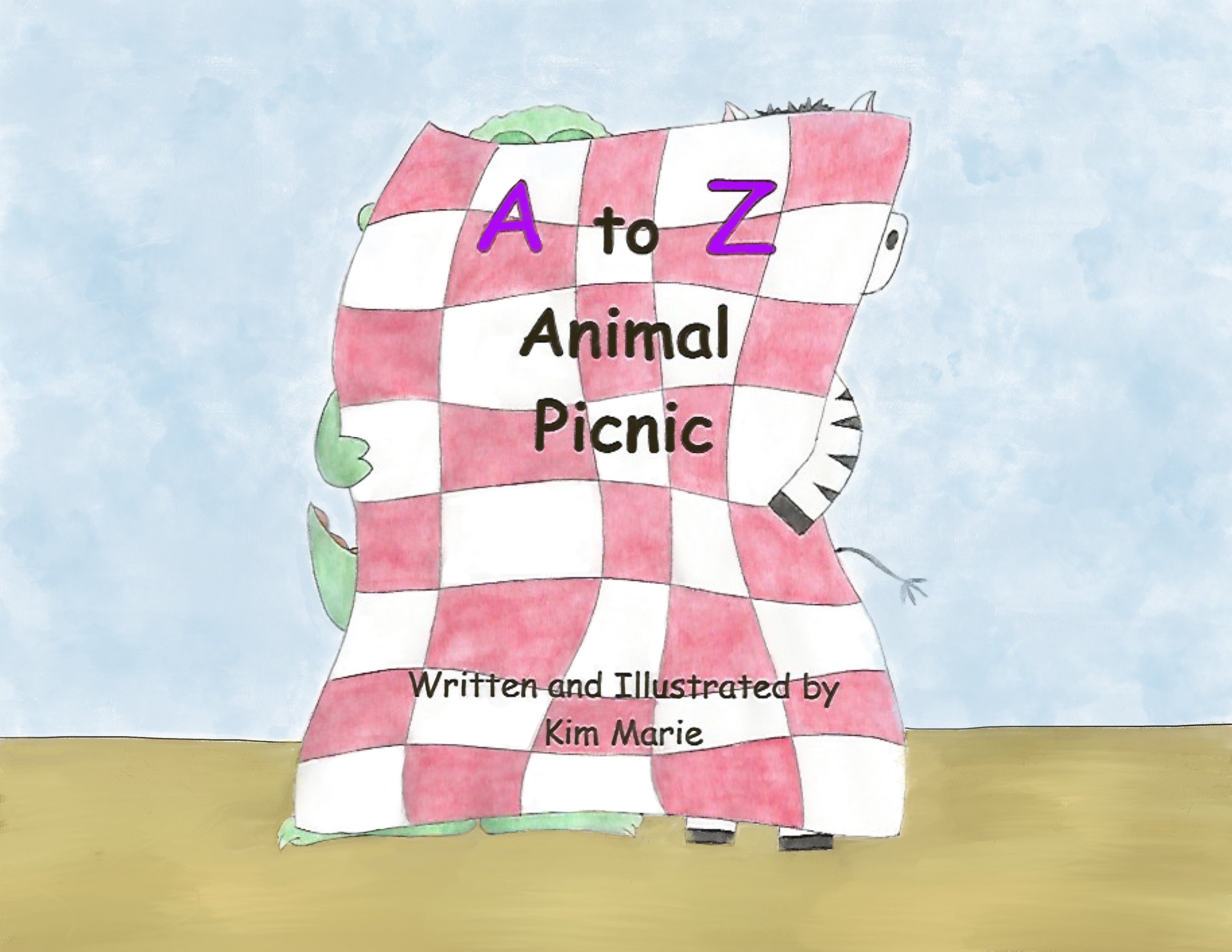 Reviews of A to Z Animal Picnic
Delightful story, whimsical illustrations and fun interactive activities.  Kim Marie's A to Z Animal Picnic is a delight. Not only did the story hold my granddaughter's interest from start to finish, she loved the playful illustrations and interactive back-of-the-book activities. One of the activities drew us right back to the story and we had just as much fun, if not more, rereading the story and finding all the images that began with the featured letter.
~ Arma
Great Read!  My four year old loved this! I'm impressed by all the alliteration! So many great characters! Well Done! A fun read for all ages!
~ Sheree
Two thumbs way up from this little lady! Such a fun book! I think this will be a regular read! Very fun and she loved the illustrations!
~ Nicole Z.
Not just a simple A is for, B is for book. This one uses alliteration with a few words not starting with the letter breaking it up. Such as Yolanda Yak yawned as she tied the yummy yams she bought yesterday with yellow yarn and yanked them across the yard to the picnic yonder. There's colour pencil artwork accompanying each letter's spiel.
~ James S.
5 stars! Great book! Loved the book! And all the little ones I gifted the book to loved it as well.
~ M2
Beautiful Book. I loved this one!!! First the feel of the cover and the pages themselves are very nice! The book and story is full of so many surprises on every page! I am so excited to share this with the littles! I strongly recommend!
~ Toni
This is a fun and educational book! I purchased the hardcover book and found it both silly AND educational! In addition, the back of the book has a few other activities that help kids practice counting, letter recognition and tongue twisters. I'm going to purchase more of these for my grandkids and for baby gifts. This is one book I can read many times with a child and focus on different things.
~ jutta
This was awesome. I loved this book. It has such cute pictures and the story is great. My grandkids loved it. They also liked the little ants on the bottom of each page.
~ Ann E.
A new fave. Charming illustrations and a fun book to read with a little friend. A new must-have for grandma's. J
~ Rho
An educational and very fun read! A to Z Animal Picnic, written and illustrated by Kim Marie, offers an alphabet book, a fun animal storyline, AND reinforcement of letter sounds through repetition in just 34 short pages!
In the author/illustrator's own words, "Follow the animals, from A to Z, as they make their way to the annual animal picnic. Every page is a bit of a tongue twister – reinforcing the sound of each letter of the alphabet through repetition."
That means that instead of offering trite sayings like, "C is for cat, " A to Z Animal Picnic reads, "Calvin Cat carried crates of candy, cake, and chocolate chip cookies to the car.  Cora Cow chose carrots, cabbage, and celery, " with each featured letter thoughtfully highlighted in purple.
The illustrations offer sinple scenes with few, yet incredibly thoughtful details.  I was delighted to realize the illustrations detailed more than the main picnic story, from a backstory about ants that you might not notice until you're several pages in, to items illustrated but not mentioned in the text, like the daisies and daffodils in Darcy Duck's window.
And, just when you think the story is over, the author offers a page of fun tongue twisters to try and a challenge (and cheat sheet) to identify hidden items throughout the book.
What did my seven-year old daughter think of A to Z Animal Picnic?
I really liked all of the tongue twisters!  ~a silly, sassy, seven-year-old
Overall, this book is a fun read for children just learning their letters and those who are reading but enjoy tongue twisters and a bit of wordplay. And let's be honest, it was fun for me as a parent to read and share with my daughter.
~ Deb P.
Children's Book Review | A to Z Animal Picnic (debpreston.com)
Two year old loves it! I bought this book for my granddaughter's second birthday. Within days she self selected it to "read" to herself. That makes it 2 year old endorsed!
~ Jan A.
Great Book! This book is an excellent choice for young readers, as it teaches the alphabet in a fun, playful way. My kids loved it! Thanks 🙂
~ Andrea H.
Learning the alphabet is the first step to reading and Kim Marie's A to Z Animal Picnic makes a great aid that will be equally welcomed by parents, playschool leaders, and kindergarten teachers.  Each letter is printed in a different colored font from the rest. Any child watching an adult's finger moving over the words as he or she reads aloud wil notice the shape and learn from repetition, and the same applies to youngsters reading independently: "difficult" words like rhinocreos will become familar.  Capitals are used where appropriate – almost entirely for names, but there are notices in upper case. At the back of the book, there are word and counting-related games.
A to Z Animal Picnic grabbed my attention from the first page. Picture books have huge appeal for pre-kindergarten youngsters, but this one will intrigue older children too; more detail emerges with every look at the illustrations.  Kim Marie has made special provisions for them with games like tongue twisters.  You try saying "Quinn Quail quickly quit quilting." Most importantly, there. is a captivating story, where Annie Ant overhears Alexander Alligator planning a picnic, through Gerald Giraffe and Lyle Lion packing their share of food, to the day when Zachary Zebra zooms in.  This is a winner that merits a place on every child's bookshelf.
~ Sarah S. for Readers' Favorite
What a fantastic way for children to be exposed to letters and their sounds.  Love the sweet story and lovely illustrations.  This will be a wonderful additional to our story time series.
~ Shawn, Speech Language Pathologist
I read A to Z Animal Picnic as soon as I got home.  Absolutely love your playful illustrations, your use of alliteration to emphasize each letter, and the interactive activities at the end of the book.  I had so much fun looking for all the letter images on each page and saying your silly tongue twisters out loud.  Can't wait to give it to my granddaughter when I see her this Christmas and do the back of the book activities with her.
~ Jann K.
Got my first one the other day and will be ordering more for Xmas for the little ones in our family.  It is the cutest.
~ Jen I.
This is such an enjoyable book to practice letter sounds.  The pictures are so darling and loved the little ants at the pottome of the page! Such a great book for kids learning letter sounds!
~ Carli V.
I love alphabet books! The repitition and alliteration makes it all so much more fun than most and the book has a silly aspect that keeps you coming back again and again 🙂 A definite must read!
~ Isabelle
This book was an enjoyable read to learn the letters of the alphabet. We had a fun time with the tongue twisters at the end.
~ K. Davis
Kids learn the alphabet with this fun book filled with tongue twisting alliteration! Lots of extras make this a great one to keep littles engaged.
~ Kathe
Love the illustrations and the stories for each letter.  Repitition certainly helps children learn to read – we had so much fun reading this book together.
~ Siobhan K.
My four year old loved this! I'm impressed by all the alliteration! So many great characters! Well done! A fun read for all ages!
~ A.R.
My 5 year old like that the ants took over the picnic.  My 3 year old liked the zibra and watermelon.
~ Jenn
This is delightful! The author is multitalented and illustrates as well.  Lovely little alphabet learning book for children as well as a story.
~ Hayley
I'm going to start by saying my kids are absolutely OBSESSED with this book now! We love the colors and the super fun tongue twisters! As a home schooling momma I adore the fact that there is a story line to keep the kids entertained but each letter was highlighted on the page to make it easier to see for the kids (for example under the page Aa all of the words beginning with A were purple and so on!) Even though it's an alphabet book it's amazing for younger kids and even slightly older kids! It was easy to follow but so, so fun to read and kinda reminded us of Cat in The Hat style books with how it flowed.  over al just an amazingly fun kids book and my kids tell me that every kid HAS to have this book!
~ Corinne
This book is an excellent choice for young readers, as it teaches the alphabet in a fun, playful way. My kids loved it! Thanks 🙂
~ Tom F.
I bought this for my 6 year old, who does know her letters and loves to read.  But my 8 year old enjoyed this just as much! Trying to say all the animals with the same LETTER words, was a blast! We read it through a couple of time and tried to read it faster and faster, making a hilarious tongue twister. By the end of the book, we were laughting as we noticed the very same ants that began at the start.  So many awesome and little hidden gems in this story! I highly recommend it!
~ Theresa L.
Clever! I have never seen an alphabet book quite this cute.  From Bobby Bunny to Zachary Zebra, all the animals are awaiting Alexander Alligator's announcement of where and when the annual picnic is going to be held. "Annie Ant wasn't invited but she accidentally overheard the announcement and asked another ant to accompany her." Soon we see all sorts of animals preparing food to take to the picnic, accompanied by ants whose numbers just keep on growing.  Unlike most alphabet books, this on is not simply a list.  A to Z Animal Picnic is fun and funny, very enjoyable story.
~ Tago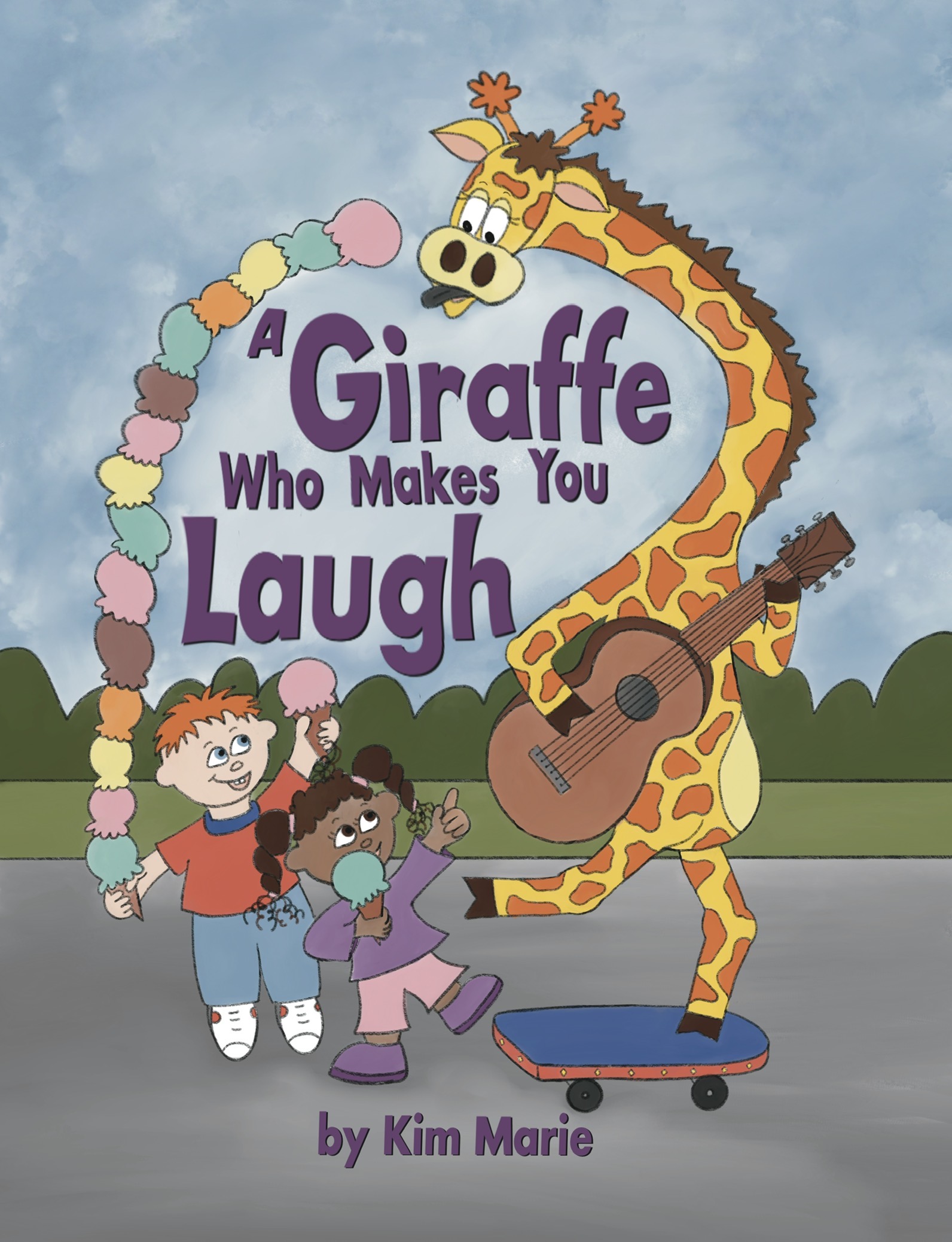 Reviews of A Giraffe Who Makes You Laugh
Just read ur book. I'm in awe. Your illustrations are incredible. I feel like u should have been doing this your whole life! The book is just so darn cute and so much to look at!
~ Jennifer
If you'd like to contribute your own review of this book, please use the link below to send your comments. Ratings and reviews are very important to indie authors, if you enjoyed the book, you can review directly on Amazon, Goodreads, or Barnes & Noble, too!  Thanks!